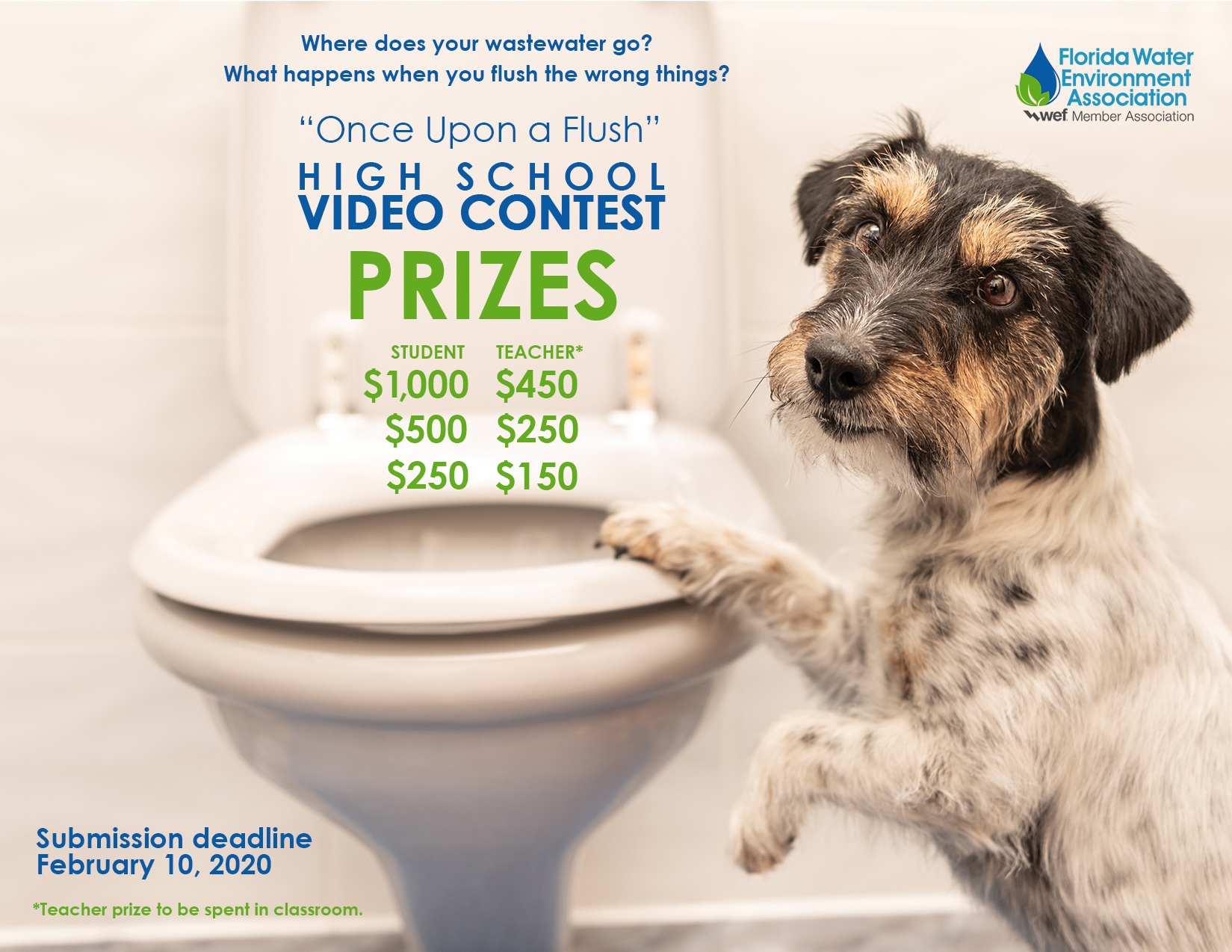 Presenting the 2019-2020 winners:

First place:
Cannarozzi
, Seminole High, Pinellas
Second place: Marianne Rose
Canete
,
Countryside High, Pinellas

Third place: Alex
Keeran
& Will
Keiser
,
Osceola Fundamental High, Pinellas

Every great story begins with "Once upon a time." We're looking for even greater stories that begin with "Once upon a flush."
Produce a public service announcement (PSA) that creatively tells the story of where water goes or what happens when the wrong things are flushed down the toilet. You can create a newscast, news story, skit, animation, commercial or even a music video. Let your imagination run wild, but please follow the instructions carefully!
Who May Enter:
Florida high school students in grades 9-12. Entries can be a team or individual effort. Limit one entry per person.

Entry Form:
A completed entry form must be submitted for every student involved in the production of the video. Please ensure the entry form includes all names of those submitting the video, the title of the video, and the name of your high school. Download an entry form here.
Entry Guidelines:
Each video entry must be uploaded to YouTube as an .mp4 or .mov file and be identified with the video title and high school name. The completed entry form and releases, as well as the YouTube link should be sent to your County Contact.
Your production must not exceed 30 seconds in length.
NO professional assistance or use of copyright material is allowed. (Such use will result in an automatic disqualification).
Submission Deadline:
All materials must be submitted to the County Contact by February 10, 2020. If you have questions, please call your County Contact.
Judging Criteria
Entries will be judged by an independent review committee. Please consider the following:
Is the theme, Once Upon A Flush the main topic of your video?

Are your facts accurate?

Does your video empower the audience to take action?

Is the video the right length and format?

Is the audio and technical construction clear and of high quality?

Is it entertaining? Is it creative and original?

Did you fill out an entry form for each person involved in the production of the video and include a creative title?
County Contacts:
Please submit your entries to the individuals listed below based on your school location.
Pinellas & Hillsborough Counties
Shea Dunifon
727-582-2898
Miami-Dade County
Melody Gonzalez
786-347-1360
Orange County
Debbie Sponsler
407-254-9802
Osceola & Polk Counties
Mary Rose Cox
407-944-5142
For counties not listed, please contact:
Chuck Olson
757-675-0235